Description
APO-1S Survival Knife Stainless Steel (AUS8) Satin Finish Green Liner:
For USA and Canada please buy this knife at canadianpreparedness.com: https://bit.ly/3m4QDOA

Survival Lilly has created the APO-1S Survival Knife, designed in Austria and manufactured in Taiwan. APO-1S stands for "Apocalypse 1 Survival" or the one knife that Lilly would choose if she could take only one cutting tool to the apocalypse.
Survival Lilly has designed her knife by the following "all-rounder" criteria:
Full tang knife construction for better stability.
Strong tip design which does not break easily.
Comfortable tapered handle scales which are made from durable G10, a material which can be sanded down to enable a custom fit to the user. We recently added a green liner inbetween the scales for better looks.
An emergency hammer at the end of the handle.
A tapered design at the end of the handle to enable "extended" grip for better chopping efficiency by using more leverage.
Lanyard hole for closed lanyards, to aid the "extended" grip.
A thumb rail which provides more grip to the user when completing carving tasks.
A sharp 90° spine which strikes firesteels very well.
A robust sheath with double snap buttons which holds the knife tightly, so that the user does not lose the knife by accident.
Specs of the APO-1S Survival Knife Satin Finish Green Liner:
Steel: AUS 8 produced by Aichi Japan (AUS 8  is a tough steel that bends rather than breaking)
Finish: Classic Satin Finish
Blade Length: 14,5 cm / 5.71 inches
Blade Thickness: 4,7 mm
Handle Length: 12,9 cm / 5.07 inches
Overall Length: 27,5 cm / 10.82 inches
Weight (including sheath): 432 gramms / 15.24 ounces
Rockwell Hardness: 57 Rc +/-1
Handle Material: Black G10 with green liner
Description of Product
The APO-1S Survival Knife is made from the finest grade AUS8 steel, both tough and robust. The knife is a full-tang design,  hardened to a Rockwell hardness of 57 RC +/-1 and the blade is finished to a saber grind which gives great strength. The tip was designed without a false wedge which gives the tip strength and reduces the risk of breaking. (Note that the tip can bend or break if subjected to abuse. Such damage where tips are bent or broken off are not covered by the warranty.) The spines edges are square which provide sharp corners making it easy to strike a firesteel. Serrations are cut into the blade spine just forward of the handle to give you fine control when carving or performing other tasks requiring dexterity.
The handle scales are made from G10, a tough fiberglass laminate. In a survival situation, blisters can develop on your hand which may become infected without proper medical treatment. Much thought went into the design of the handle resulting in a very comfortable shape which helps ensure that you can use the knife for hours without worry of blisters. G10 is easy to work with if you want to custom fit the handle scales to your hand, a simple process that you can do using fine grit sandpaper. The scales are secured to the tang with stainless steel screws. The tang at the handle is tapered in order to allow an extended grip, a way to hold the knife which can be useful when chopping, for example, by gripping the knife farther back on the handle.
A small lanyard loop located on the butt of the handle doubles as an emergency hammer which is handy when crushing nuts and seeds or smashing limpets off a rock. The loop is also useful to enable a better grip when you want to stab with the knife, by reversing your grip on the handle and placing your thumb on the emergency hammer.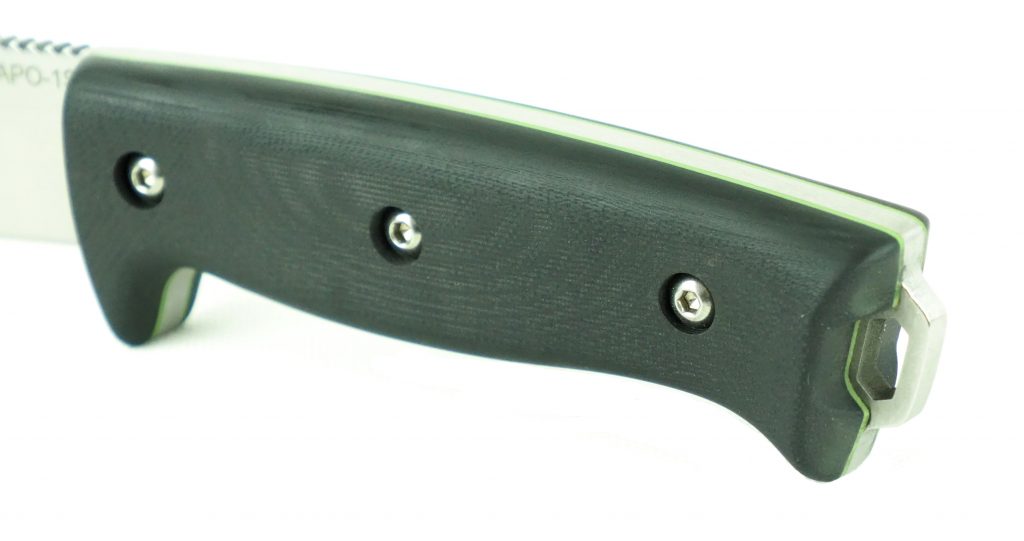 The sheath is made from tough, black nylon which is robust and molley compatible. A small drainage hole is located at the very tip of the sheath.